South Dakota, here we come!
In the past four seasons of The Pedal Powered Talk Show, we've explored a lot of Oregon but for this fifth season we were ready to explore a new state. A few months ago, I contacted the South Dakota Department of Tourism and asked if they might interested in helping us bring the show to their fair state. Amazingly, they said yes! So we started sorting out all the logistics required to transport a talk show bike and its crew a thousand miles the middle of the country.
Why South Dakota? Because it's packed with crazy geography, complex underground cave networks, massive roadside attractions, huge bison herds and giant carved Presidential heads. And we went to each of those places to interview park rangers, opera singes, Lakota artists, rodeo clowns and more.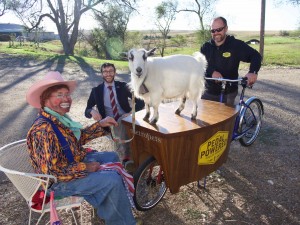 Last week we released our first episode from South Dakota, filmed at Mount Rushmore. In the history of our show, it was the most challenging episode we've ever filmed. Not because of riding conditions or inclement weather or charging buffalos but because we'd never filmed in a state park before. We filled out a stack of forms, secured special insurance and even got extra special permission to bring a bicycle into the park (which is usually not allowed). But it went off without a hitch and we lucked out with amazing weather:
We've got many more episodes from South Dakota coming up so stay tuned for tales of friendly buffalo, cave discoveries and disappearing goats!